1996 would prove to be our most productive year yet. In January new, revised versions of our six songs were recorded. However, personal issues caused Rick to have to resign. We weren't happy with his decision to leave, but we understood that he needed time to resolve some problems and had no choice but to step down. Another setback occurred on February 14th when the practice space was burglarized. Two of Patrick's guitars were stolen along with a bass guitar and some keyboards which belonged to the owner of the building. Luckily, Patrick's Gibson Explorer and the bass were recovered. While the guitar was being held by the police as evidence, Patrick sold his Peavey guitar and bought a black Epiphone Flying V. A month later, Patrick got his Explorer back, but his other guitar, which was worth considerably less, was never recovered.
In light of the burglary, we decided that the practice space was no longer safe and began looking elsewhere. We also began looking for a lead guitarist to take Rick's place. Joe suggested Marco Guererro. Marco's band had since broken up, and we decided that we'd give him an audition to see what he had to offer. We remembered from the party a few months earlier, that Marco was a good guitarist. We tried him out and liked what we heard. Marco continued to practice with us through the month of February. In March, Marco became Kadath's new lead guitarist, and the band relocated to Marco's house.
Over the next month and a half, the four of us refined our original songs. Marco learned the material surprisingly well for only being with the band for two months. We would play through our 45-minute set two or three times a night, stopping only to take a short break in between sets. Getting all that playing time in really helped us build stamina and skill. It also helped us to become more familiar with the songs in a relatively short period of time, as well as develop a unique style. There was definitely a good chemistry between the four of us.
In April, Jody Cox, Marco's friend and former band mate (drummer of Neptune's Belly), offered to record a demo of Kadath's music using some professional equipment. Jody needed a group to record for a class project, as he was taking a course at a local college. We gladly accepted and the project began on April 15th. The semi-weekly sessions took place in his garage studio during the evenings and usually lasted a few hours. During the first two sessions, Joe put down the drum tracks for all six original songs, plus another one for a cover of The Misfits song, "Vampira".
The next two sessions were spent with Patrick recording two rhythm guitar tracks for each song, as well as some harmony pieces and clean guitar parts. Session five consisted of Shawn laying down the bass tracks, and session six had Marco recording new and somewhat improvised lead guitar parts which later became polished solos within the songs. Patrick recorded the vocal tracks during the next session.
On May 15th, the songs were mixed down, and "The Hell Beyond" demo was complete. It featured finished versions of all six songs: Realm of the Lost, Lifeblood, Evil Unbound, Braintrust, Abuser, and The Hell Beyond. "Vampira" was only included on the free promotional copies of the demo. Even though the mixing process was rushed, and the demo was never properly mastered, the recording far exceeded (in sound quality) any of our previous recordings.
One day while at a local record shop, Joe overheard that Maxx, the owner (and local music promoter) needed another band to play at an upcoming show. Joe gave him a copy of Kadath's demo. Maxx listened to the demo and offered Kadath the gig. We were to play with the bands, Blood Red Black, Fossil, Eight Minutes to Earth, and Monument at Bricktown Live, a venue in downtown Oklahoma City.

We commissioned our former lead guitarist, Rick Mushinski, who was also an experienced screen printer, to print two kinds of Kadath shirts. One featured the original 1995 "exploding skull" design and the other was "The Hell Beyond" demo cover art. Both were designed by Shawn. Along with the shirts, several cassettes of "The Hell Beyond" demo were made in preparation for the show. Kadath also got some radio publicity when "Abuser" was played on the KATT's local talent show on June 18th as a promotion for the upcoming show. On June 21st, Kadath played its first real show to a paying audience. We sold enough tickets ourselves that we got to play third out of the five bands, which meant that we sold more tickets than two of the bands playing that night. We were surprised at this because it was our first gig and we were virtually an unknown band.
The show went very well. We couldn't have asked for a better first gig. We were all very nervous at first, but when we got on stage and the music started, everything was cool. It seemed to go by really fast. Everyone was thrashing around and head banging right along with us. It was really cool to see our music go over so well. Especially since most of the crowd were people who had never seen or heard of us before. We got a great response.
A few weeks later, Maxx offered Kadath another spot in an upcoming show due to a last minute cancellation by another band. Again, the show was at Bricktown Live. The other bands on the bill were Pit Bulls On Crack, Evisceration, Hollow, and headlining the show would be death metal legends, Cannibal Corpse. We had eight days to prepare for the show, so unlike before, we didn't have time to sell many tickets. But we weren't about to pass up an opportunity to open for a big act like Cannibal Corpse.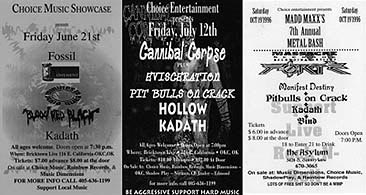 On July 12th, Kadath played a thirty minute spot opening the show. We played five original songs and ended our set with a cover of "Braineaters" by The Misfits. Again, we got a really good reaction from the audience. The solo part of "Realm of the Lost" really stands out to us because we (Shawn and Patrick) remember looking out across the crowd and seeing people moshing, head banging and going completely nuts. It was very rewarding to see our music being received so well. -And it was a moment that we won't soon forget. That show got us a decent amount of publicity and recognition from people who were new to our sound. We didn't have a lot of our friends at this show, so it was a good chance to see how our music went over with people who'd never heard Kadath. We were very grateful and lucky that we got to open for Cannibal Corpse for our second gig.
In August, a first draft of a new song, "Devil's Cure-All" was recorded. Riffs and arrangements began emerging for some other new titles, "Forward Path", and "Step 9". Joe rearranged some riffs from various songs by Marco's former band to create an instrumental song entitled "The Darkest Night". Marco set up Kadath's next show at a rock club in Lawton, Oklahoma called The Trash Can. On September 1st, we made our third live appearance on a bill with nine other bands that played "Trash Bash 4", a yearly rock festival held by the club. Kadath's first road gig was fun, but kind of strange. The club's soundman didn't want to have to go through a complete sound check with the bands, so each of the bands' drummers were made to use the same set of toms and cymbals. Kadath took the stage and played an eight song set consisting of their original six songs, plus shaky versions of "Devil's Cure-All" and "The Darkest Night". Once again, we got a great response and were paid decently. But, we played sloppily. The soundman couldn't seem to get the feedback problem under control (which didn't help our playing), and Joe was upset about the whole drum situation. All in all, it wasn't a bad gig. We had a lot of fun playing, and we were interviewed by a local rock station, KZUE "The Zoo" in Lawton. We were paid more for this gig than the previous two shows, and we were asked to return.

Kadath was invited to play another show with Manifest Destiny, Pit Bulls on Crack, Bind, and Forté at the upcoming "Mad Maxx's 7th Annual Metal Bash". But our good fortune changed on September 14th when again, our rehearsal space was burglarized. Among the things stolen were Shawn's Peavey bass head unit, Patrick's vocal effects processor and PA, and Marco's guitar and processor. Police reports were filed, but the only item recovered was Marco's guitar, which was found at a local flea market a year later. We should have known that we were in danger of this happening again, as there were many unsavory characters in and out of Marco's house during the various parties that were thrown there. In hindsight, we realize that it was a shitty, rash move and not the right thing to do, but we (Shawn and Patrick) held Marco responsible for the burglary. At the time, we felt that he might have been able to prevent it from happening. This caused a rift between us and Marco, which ultimately lead to the decision to replace him, albeit against Joe's wishes.
On October 19th, Kadath performed at "Mad Maxx's Metal Bash" at The Asylum in Del City. It would be our last gig with Marco. It was not a memorable show. We were still upset about the burglary. We had to cheaply rig up some pedals and equipment so that Marco would have distortion through his amp. Patrick loaned his Explorer to Marco, and Shawn had borrowed a bass head for the show. We really weren't into playing that night, but the soundman did a really good job. Some audience members who had seen us perform before told us that we sounded better that night than at the previous shows at Bricktown. That was a nice compliment considering that we hadn't rehearsed in over a month.
During the next two months, we auditioned musicians in search of a lead guitarist and searched for a new rehearsal space.